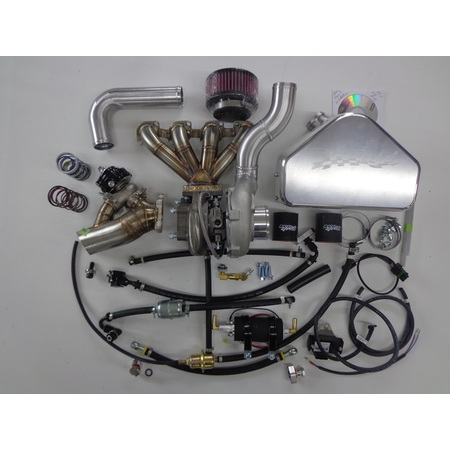 Product Details
2007-2008 GSXR 1000 Stage 1 Turbo Kit
    Custom Garrett GT2871R dual ball bearing turbo, will support over 450hp,
    38 mm Tial MVS waste gate
    304 grade stainless steel header and flanges
    304 grade stainless steel dump pipe assembly
    Braided oil feed line and fittings
    Oil return line and fittings
    New in-line fuel pump
    1:1 fuel pressure regulator
    3 BAR MAP sensor with plug and play harness
    Fuel lines and filter for the fuel system
    Billet aluminum airbox
    Aluminum charge piping
    Aluminum hold down straps for air box
    Crankcase vent filter
    Oil cooler cross over hose
    K&N air filter
    All vacuum lines, connectors, hose clamps, and fittings.
    ECU Editor BIN file provided
    Installation instruction with pictures provided on CD
    Mechanical scavenge pump
All vacuum lines, connectors, hose clamps, and fittings. ECU Editor maps will be supplied with kits.
These kits require you to shorten your factory radiator. If you want a new shortened radiator to ship with the kit is is an additional $400.
Due to the high compression ratio of the of GSXR 1000 and the light valve spring pressures, we recommend only running 4 psi of boost as a bolt on kit. This system will make 230 Hp on pump fuel without any engine work.
All workmanship comes with a 2 year warranty ----ie. cracking pipes or fittings
Turbo unit comes with a 2 year warranty Fuel pump and regulator come with a 2 year warranty
2007-2008 Suzuki GSXR 1000 Stage 1 Turbo System
Price

$

5,950

USD

USD