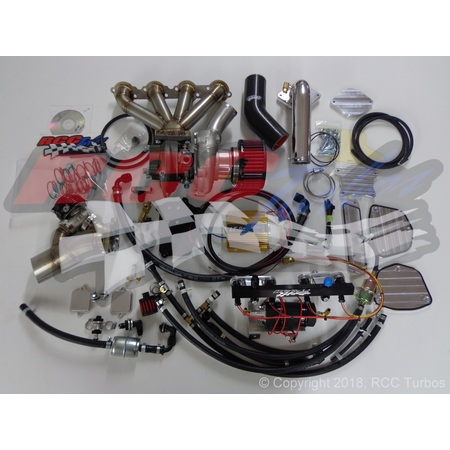 Product Details
Kawasaki ZX14 Stage 2 Turbo System 2006-2018 models
Product Description:

ZX14 Stage Two Turbo Kit:

Garrett GT Ball Bearing Turbo, supports over 430 hp
38mm Tial MVS Wastegate (external)
2.5" Stainless Steel Dump-pipe
Stainless Steel Header and Flanges
Braided Oil Feed Line with Fittings
Oil Return Line and Fittings
RCC Billet mechanical scavenge pump
New In-line Fuel Pump
Fuel Pressure Regulator
Fuel Lines
Billet Frame block off plates and o-rings
Oil Block Off Plate
Crancase Vent Filter
High Flow Airfilter
Vacuum lines, Hoses, Clamps, & Fittings (Prelabeled)

Stage 2 kit can go as high as 440 rwhp (with built engine & race fuel).

Stock engine 260rwhp on pump fuel with stage 1 or stage 2 kit.

Engine with turbo pistons and HD valve springs, 290rwhp on stage 1 or stage 2 kit with pump fuel, or 330-340rwhp on race fuel with the stage 2 kit.

With a fully built engine, HD connecting rods, turbo pistons, valve springs, etc. The stage 2 kit will be 290-300rwhp on pump fuel, and 440rwhp on race gas.

 

 

 
 
Kawasaki ZX14 Stage 2 turbo system
Price

$

7,750

USD

USD