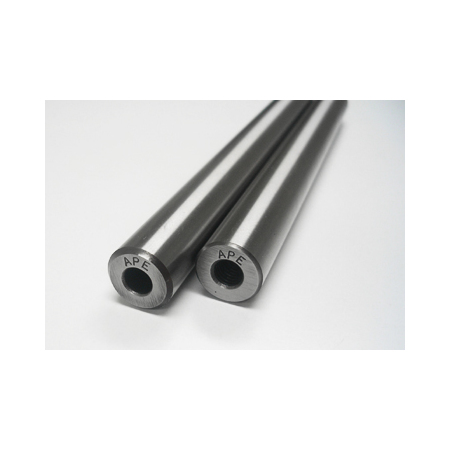 Product Details
APE TOOL STEEL SHIFT SHAFTS

APE has designed a tool-steel shift shaft. We initially designed these shift shafts for use in Hayabusa powered Radical road racing cars. These cars weigh more than twice as much as a motorcycle and put tremendous stresses on the transmissions with constant up shifting and down shifting.
The problem..... Both the oem and currently available high performance shift shafts were bending and flexing which wallows out and oblongs the shift shaft holes in the cases which eventually scraps the cases.
The solution...... It is well known that APE builds the strongest, no flex, tool steel wrist pins in the industry. The very same pins that Spiderman McBride uses to run those five second ETs. So why not use this expertise to build a no flex shift shaft. And that is just what we have done. Tool steel shift shafts, just like McBride's wrist pins, now available for your Hayabusa.

The only genuine tool steel shifts available
TSSH1300 Pair, upper and lower Fits 99 thru 2018
APE TOOL STEEL SHIFT SHAFTS
Price

$

75

USD

USD