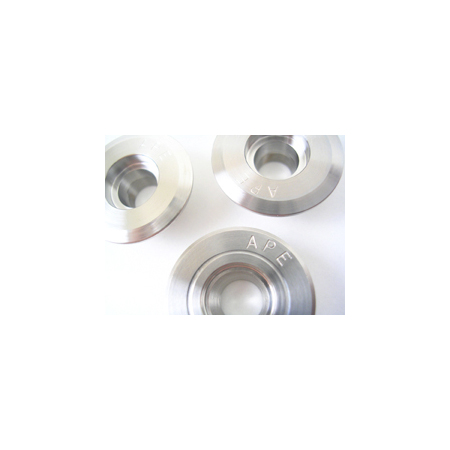 Product Details
APE valve spring retainers are machined from aircraft quality titanium bar stock in the APE plant on the latest state of the art computerized CNC machinery.CNC machining allows us to offer such advantages as bored taper keeper holes for exact keeper fit. Special gauging fixtures allow dimensions to be held close to provide exact installed heights when assembling the cylinder head.
The stock retainers for the 'Busa are aluminum - not nearly as strong as titanium. Although they seem to work fine in stock motors, as soon as you increase the spring load above what the factory designed the stock retainers, for you run the risk of pulling the valve keepers through the aluminum retainer and dropping the valve in the motor. Also - the bottom of the stock retainer will contact the valve stem seal at about .380" cam lift. Removing material from the bottom of the stock aluminum retainer will only further weaken the stock retainer. APE retainers are .030 shorter than stock. For cam lifts over .410" you nust use APE short valve guides.
These titanium retainers must be used with APE valve springs. Use either APE #VS1300GSX or #VS1300GSX-2 above.

NO MATTER WHO BUILDS YOUR CYLINDER HEAD, INSIST THAT THEY USE APE TITANIUM RETAINERS.
TVSR1300-PRO - Set of 16 retainers -- $250
Titanium Valve Spring Retainers
Price

$

250

USD

USD