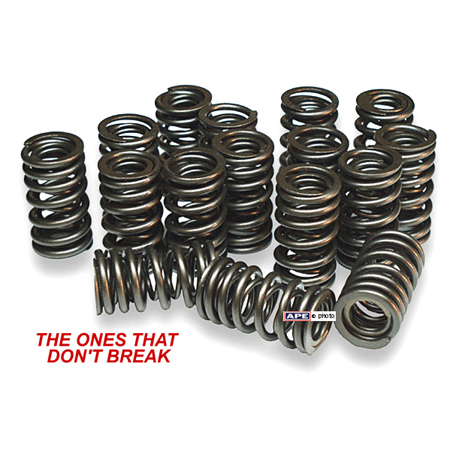 Product Details
World famous APE valve springs are made from premium chrome silicone wire for consistant pressure and excellent fatigue life. Racers as well as street riders have come to depend on APE springs for winning performance. For use with any high lift cam and / or agressive camshaft profile.
For the Hayabusa, APE offers VS1300GSX-2 for turbos, nitrous or cams with radical ramps.
Valve springs should never be run closer than .050" to coil bind. As you can see, OEM springs will only handle a max .380 lift. However at that lift the pressure is too low to properly control the valves at high RPM. APE springs are over 30 LBS higher at .380 -- and can safely handle up to .470" lift, or allow shimming to even higher pressures depending on the application.
Complete set of 16 - $150
Price

$

150

USD

USD