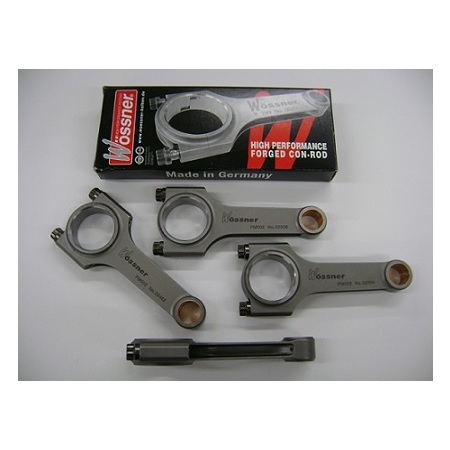 Product Details
Wossner connecting rods for 08-22 Hayabusa
German made Wossner H-Beam Connecting Rods for the Suzuki Hayabusa are stronger and less expensive than the competition. Designed for over 500 horsepower turbo applications, but can be used in any application where a strong rod is needed. Forged from Chromoly 4340, part # PM 002 utilizes 3/8" ARP L19 bolts, and part # PM 003 uses 5/16" ARP L19 bolts, to keep even the highest horsepower engine together longer and without catastrophic failure.
What are the differences between L19 and ARP 2000 bolts?
L19 differs from ARP 2000 in that it is a vacuum melted alloyed steel with sufficient chromium and carbon to achieve high hardness. L19 is air-cooled from the hardening temperature in a way that does not require an oil quench to achieve full hardness and is tempered to assure full conversion to marten site between 1025 F (551,66 C) and 1075 F (579,44 C). L19 is a proprietary material capable of achieving strengths of 220,000 / 230,000 or 260,000 / 270,000 psi as may be required. Recommended Torque is 45 foot pounds (.006"
stretch)
Specifications:
Center to Center - 119.50mm
Pin Diameter - 18mm
BE Diameter - 41mm
Weight - 305 grams
Please Note: Picture of connecting rods is for reference only and may not be of the actual part #
Wossner connecting rods for 08-22 Hayabusa
Price

$

860

USD

USD